System Update: Customizable Occasions List, Searchable Choice Lists, Speed Improvements and more
Here's a list of the more important changes that were recently made…
⭐ Customize your "Occasions" List
Want to customize the Occasion list that shows on your Booking Request Forms, Finalization Forms, and in your PPM Admin?
With this update, you can pick and choose which Occasion types show on your forms.
➕ PLUS… You can add custom occasion types of your very own if we don't have what you need on our default list ✔
👉 Click here to learn how to customize your occasions list
⭐ Searchable and Scrollable Choice Lists on your booking forms
We're always looking for ways to further optimize your Booking Request Forms so that you can book more gigs and look super professional doing it!
Recently, we launched an optimization that I know you are going to LOVE!
This is especially for those with Package Options that have many possible choices to choose from.
With this update your booking forms will:
😍 Put longer lists of choices in a smaller, scrollable space (so that your clients don't have to scroll past a list of 100 options if they don't need to)
😍 Make your list of choices 'searchable'
😍 Makes it super clear to your client how many choices there are
😍 Allows them to easily see only their selections
Best of all, there is NO ACTION REQUIRED from you. This is automatically applied when your list is long enough to merit it 🙂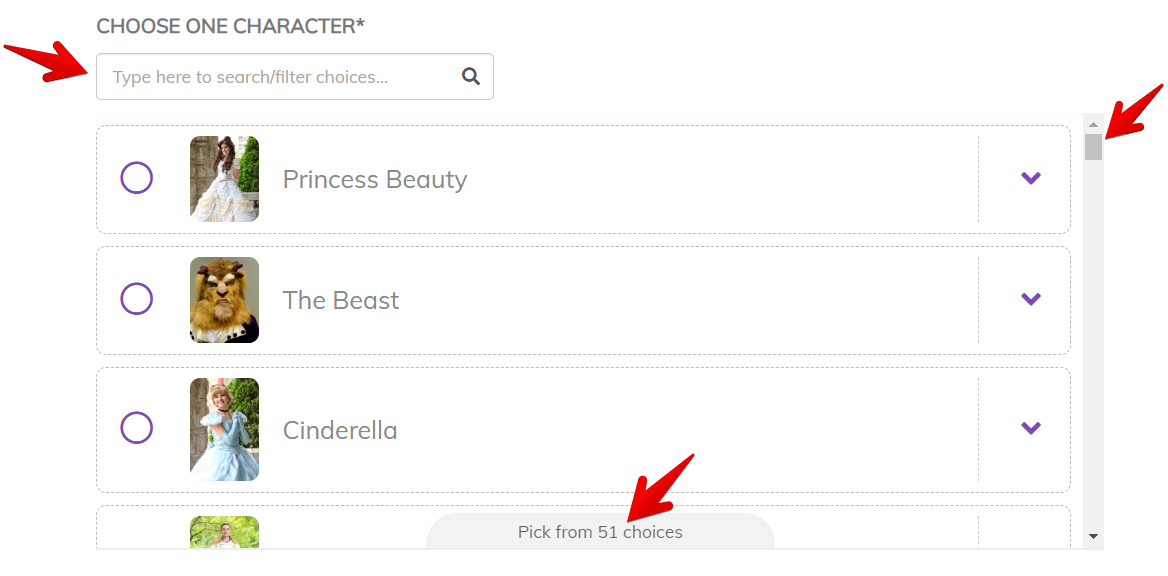 ⭐ Performance/Speed Improvements 🏃‍♂️💨
We've made updates to the Calendar page and Email Logs page in particular to help improve overall speeds and performance of the system for all users.
⭐ Custom Calendar Title & Extra Display Info
With this update you can display all the info you need in your calendar view… even if you have some events that don't follow your typical requirements!
👉 Click here to learn how to set it up here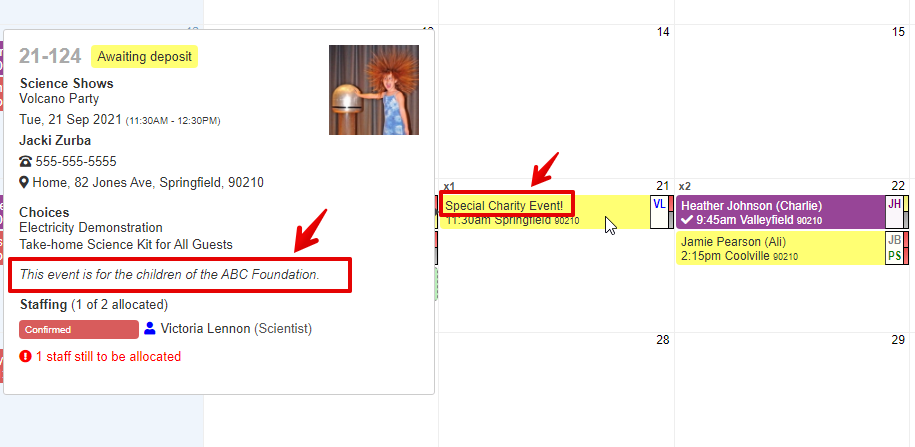 ⭐ Staff Portal: 'Switch Account' feature
With more and more agency style users joining the Party Pro Manager family, it was only a matter of time before the same staff worked with multiple companies using PPM to streamline their booking, scheduling, billing, etc.
With the introduction of this new feature, staff can now access multiple different company accounts with a single Staff Portal login.
⭐ Support for Global Users 🌍
We're honoured to have party businesses from all over the world trusting Party Pro Manager to help them make running their business way easier! With users in the USA, UK, France, Canada, Australia, New Zealand, South Africa, and more… we're constantly updating our system to support the global needs of our users.
Most recently, we've added currency support for South African Rand 💱, as well as support for Dutch locale date format 📅
—
➕ Plus, other system improvements and bug fixes
https://www.partypromanager.com/wp-content/uploads/2019/11/PPM_land-200.png
0
0
admin
https://www.partypromanager.com/wp-content/uploads/2019/11/PPM_land-200.png
admin
2022-11-01 16:19:20
2022-11-01 16:20:45
System Update: Customizable Occasions List, Searchable Choice Lists, Speed Improvements and more